Meet the
Happy Bull
The Happy Bull is a family business that opened its doors in May 2016. We wanted to serve the best burgers in town after realizing there were no other places offering what we craved for.  
We create a place where you, your friends and family can enjoy a nice dinner in a cozy atmosphere.
Where the food is daily fresh made and where the guest his only concern is to enjoy.. and we certainly succeed.
The Happy Bull has become increasingly famous through our continuous effort in serving quality burgers, great atmosphere and excellent service.
Where others stop, we continue!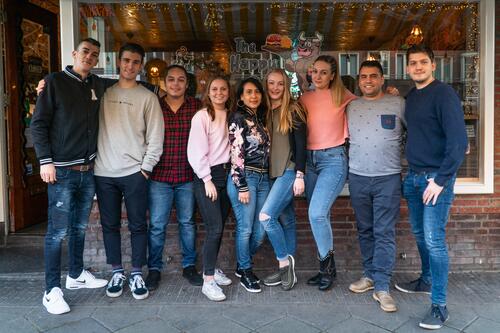 Our team
The Happy Bull consists of young professionals who are passionate about the hospitality industry. Our evening is only fulfilled when all our guests have left the restaurant with a smile. 
Our international team, consisting of people with nationalities such as Colombia, Italy, Hungary, Spain and the Netherlands adds a variety of influences to our dishes and service.
Vacancies
The Happy Bull is always looking for new talent!
Do you think you are an addition to our team?
Are you a hospitality beast?
Creative and a team player?
Email your CV with picture and a short motivation to [email protected]